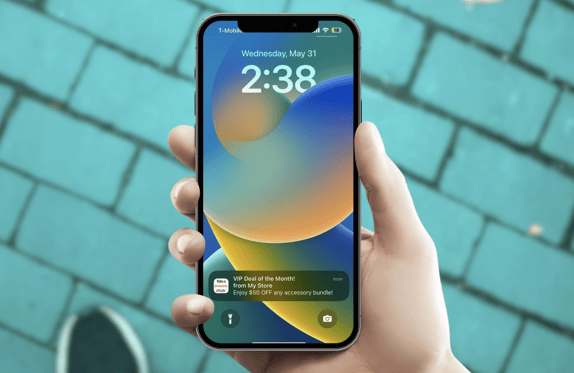 In today's fast-paced digital era, staying connected with customers is more important than ever for wireless retailers. One highly effective tool that has emerged to enhance customer engagement is push notifications combined with your own company branded app. These concise and timely messages, delivered directly to users' devices, offer businesses a unique opportunity to drive growth, increase user retention, and improve overall customer satisfaction. In this blog, we will explore the benefits of push notifications and how they can be leveraged by any business to create a competitive edge in the market.
Effectiveness
Push notifications are delivered straight to the notification center of your customers' devices to be instantly viewed, while emails can end up in spam, social, and promotional folders where they get completely ignored.

Push notifications get instant reactions whereas emails usually get reactions with a delay of 6.5 hours.

A 2020 study found that about one in five emails never reaches its recipient, and instead goes to spam or remains undelivered.
Instant and Direct Communication:
Push notifications allow wireless retailers to reach their customers and reps instantly, delivering important updates, promotions, or personalized content directly to their devices.

These notifications bypass cluttered email inboxes or social media feeds, ensuring that important messages are seen in a timely manner.
Enhanced User Engagement:
By delivering personalized and relevant content, push notifications can significantly enhance user engagement.

Tailored messages based on user preferences, behavior, or location can create a sense of exclusivity and personal connection, driving users to actively engage with the app or website.
Increased Conversion Rates:
Push notifications provide wireless retailers with a powerful tool to drive conversions by delivering targeted messages that nudge users towards specific actions.

Urgency-inducing tactics, such as limited-time offers or exclusive discounts, can be effectively communicated through push notifications, resulting in increased sales and conversions.
Improved Customer Retention:
Push notifications help wireless retailers stay top-of-mind with their customers, reducing the risk of churn.
By sending reminders, relevant updates, or valuable content, businesses can strengthen customer loyalty and encourage repeat visits or purchases.
Behavior Tracking and Personalization:
Push notifications can be used to gather valuable insights about user behavior and preferences.

By analyzing user interactions with notifications, wireless retailers can better understand their audience and deliver personalized messages that cater to individual needs and interests.
Customer Segmentation and Targeting:
Push notifications provide the flexibility to segment users based on various criteria, such as

operating systems, device types, store locations and more.

This segmentation enables wireless retailers to send targeted messages to specific customer groups, resulting in higher engagement and conversion rates.
Improved Customer Support and Service:
Push notifications offer wireless retailers an effective channel for providing timely customer support and service updates.

By promptly addressing customer queries or concerns through push notifications, businesses can enhance customer satisfaction and loyalty.
Push notifications have emerged as a powerful tool for businesses to connect with their customers in a timely and personalized manner. The benefits of push notifications span across various aspects of business growth, including increased engagement, improved conversions, enhanced customer retention, and better customer support. By leveraging the potential of push notifications effectively, businesses can strengthen their brand, foster customer loyalty, and gain a competitive edge in the digital marketplace. Embracing this technology is not only a smart move for wireless retailers, but it also ensures that customers receive relevant and valuable information, promoting a mutually beneficial relationship.
To learn about how TracPoint Apps can help you leverage the power of push notifications with your own custom branded app and digital business cards, schedule a demo with us, or contact us at:
800-404-4450.