Screen Time is Up
The situation we find ourselves in is unprecedented. The data shows what we all know, almost everyone is home and scrolling online. Keeping up with your social presence is more important now than ever. The increase in media consumption, as reported by Global Web Index, is measurable:
GenZ: 27% increase
Millenials: 30% increase
GenX: 29% increase
Boomers: 15% increase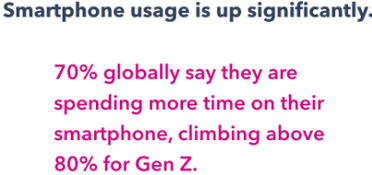 iPhone owners (71%) have a 10-point lead over Samsung owners (61%) for increased smartphone usage. And we're also living without live sports. Front Office Sports noticed, "a highlight reel that Michigan State's Cassius Winston retweeted is seeing 27 times his number of normal engagements."
Use this time to share thoughtful, helpful or uplifting content with your audience. With newsfeeds flooded with Covid19 articles, an update from a local retailer can be a much welcome respite.
Watch out for an increase in engagement. Be sure to monitor your comments more often, to prevent negative threads and 'trolls'. Engage with your customers online as often as you can to continue to build trust.
Are your store hours changing from the norm? Update sites where your hours are published, so customers know what to expect. (Note that with less support backing these websites, there are delays.)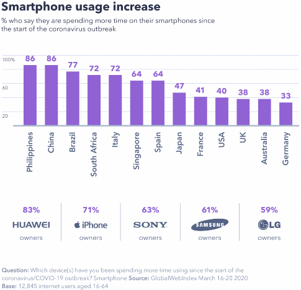 This pandemic has taken over every part of our lives, from our work life to our social media pages. In times of isolation it's clear that consumers are turning online for everything from staying up to date with local news to entertainment to shopping. It's time for retailers to do the same. Managing multiple social media pages can be time consuming and frustrating. The Rallio platform makes managing multiple social media pages a breeze!
In the spirit of helping our wireless retail family utilize the power of social media to communicate during these challenging times, we would like to extend 3 complimentary offers to help, through May 1st!
1. Content
Let our team create custom, designed posts for you to share and boost. We're here to help and create!
2. Managed Care Services
Do you need help posting content out, is your staff needed in other areas? Let TracPoint schedule content out to your followers for you. This way you're staying connected to the public and providing important information about your stores and products.
3. Employee Advocacy
Let us help engage your employees and provide them with the tools to share your important messages out to their personal social followers including FB, Instagram, Twitter and LinkedIn. Remember, content shared by employees receives 8 X more engagement than content shared by brand channels. Or perhaps your employees would like to provide content to post out. Let's tap them for their ideas and suggestions! They may want to create a video of a cool, new accessory to use, or share a video on how to properly clean a phone. The ideas are endless.
We're here to help with one, two or all three of these services, if needed. Click below to schedule quick phone call to discuss and we can begin right away!