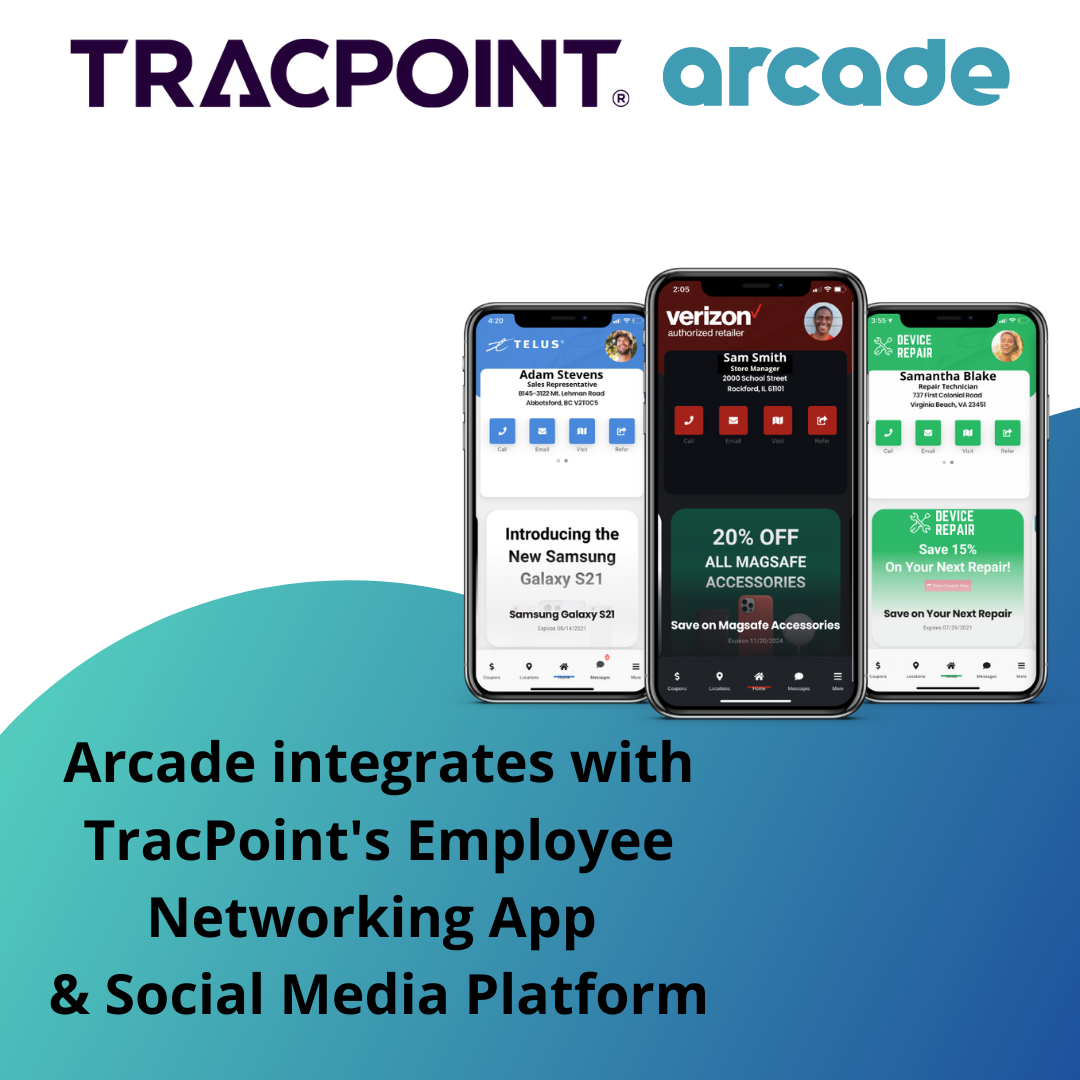 Middleton, MA
—
October 20, 2022
—
TracPoint
integrates its custom Mobile Apps Digital Business
Card & Social Media platforms with Arcade.
Driving new sales and door swings is the number one issue that every retailer faces today. The goal
of every sales rep hired is to be successful in generating s
ales while creating a positive long-
lasting
impression with customers and potential new prospects. This isn't always easy. TracPoint helps
businesses leverage the biggest asset any organization has to drive sales, its employees.
This new integration wit
h Arcade includes the TracPoint Apps Digital Business card platform, Rallio
Social Media, and Revv r
eviews generator platforms. With the TracPoint Apps Platform, retailers
can now replace antiquated paper business cards with a modern, digital solution
that enables
employees to network across multiple channels including, social media, email, SMS, and face
-
to
-
face
interactions, with the goal of driving customer loyalty and new sales.
Arcade clients can now gamify
App installs on customer devices, and reward employees for Social Media content sharing to their
social networks.
"The App delivers the organization's branding, promotions, a personalized digital business card for each employee, store locator, in-app messaging, detailed analytics, and much more. The App even has a built-in "Referral" function that allows customers to easily refer their sales rep to other contacts, friends, and family for new business.
Employees can now share their personal digital business card with the click of a button, or scan of a QR code, to friends, family, prospects, and customers within a few seconds without the need for any App store downloads. The Arcade integration has made networking and lead generation fun as the employees are immediately rewarded for company App installs and social content shared with their friends and family." Brad MacArthur -President -TracPoint.
"If you're looking to boost employee productivity, Arcade enables teams to realize their fullest potential through gamification, performance management, and incentivized reward.
Arcade was built to transform those everyday sales goals into gamified micro incentives, that keep your reps focused and motivated on the right outcomes. This new integration with TracPoint allows wireless retailers to go beyond just sales activities from their point of sales (POS), but now across other tech solutions within their business, such as App Installs and Social media content from TracPoint. The new generation of sales incentives has changed, and retailers are now thinking differently about how to keep their employees motivated and focused on the right actions. Expanding our ability to add more data just further strengthens our clients with the resources they need to move needle in their business, and build a winning culture, of highly motivated and engaged employees." Andre Riley -CRO -Arcade.
About TracPoint:
TracPoint provides innovative digital marketing programs and services designed for multi-location retailers to increase sales. Working with thousands of wireless retailers across the US and Canada, our suite of products now integrated into Arcade allows for increased results and improved user experience. TracPoint services include Mobile Web Apps, Rallio Social Media platform, and REVV –Reviews Generator. For more information, please visit
www.tracpoint.com
About Arcade:
Arcade is a Performance Engagement Platform that connects with your company's core business applications to transform KPIs and business goals into real-time gamified incentives. Designed to build teams that are highly motivated and engaged, Arcade strategically focuses employees toward actions and behaviors that achieve greater success for your business, motivating every employee, not just your superstars. For more information on Arcade, visit
https://arcade.co