A whopping 96% of consumers use coupons, and these consumers use a coupon in at least one of every four purchases. In fact, 97% of consumers actively look for deals when they shop. This has never been truer than now during a time where screen time is at an all-time high.
One of the drawbacks of coupons is the cost, or reduction in profit from the transaction. Any discount you offer means less money in your pocket. But the truth is, if you aren't advertising any discounts or promotions to bring customers into your stores, it's likely that your competitors are. And, in today's economy, consumers are always looking for deals.
With TracPoint's digital coupon module, you easily create shareable trackable promotions in minutes. Here are 4 benefits to using serialized coupons: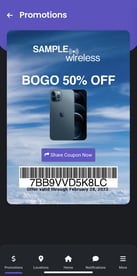 Trackable
It's important to track your promotions and keep a close eye on who's using your coupons. If you're not reviewing the data, how will you know which promotions are the most effective? Tracking coupons is the best way to optimize promotions for your audience.
Shareable
Did you know that coupons with a built in "share" button can increase your reach by up to 20%? Let your promotions go viral. Allow your customers to easily share your offers with their friends and family! Distribute your coupons through all media including web, SMS, e-mail, social media, and even print.
Prevent Fraud
Another big drawback of running promotions is fraud. When customers can successfully "game the system" and redeem a coupon more than once they're affecting your bottom line. Thankfully you can avoid these loopholes by using serialized coupons. With serialized codes that are created in TracPoint promotion designer, they can be uploaded to a POS, and you can can track every single transaction. This way, once a coupon is redeemed, it can't be used again.
Increased Foot Traffic
The bottom line is, your customers love deals and respond well to them. When you give your customers the ability to share a coupon you are opening yourself up to a great way to encourage and increase repeat customers. Coupons will grab attention and bring new customers in.
With TracPoint's Coupon Module you can easily create and track digital coupons that are customized for your brand within minutes. The drag-and-drop platform is simple enough for anyone to use while tracking clicks and redemptions. These promotions can be shared out to all your digital platforms.
Click here to learn more about TracPoint's Coupon Module!